If you have a project requiring custom duct fabrication in Pittsburgh, PA, we can handle it. Our products are known for their durability and high-quality craftsmanship, and our custom designs are no exception.
We've been in the HVAC manufacturing industry since 1954, and we understand how to approach every project's unique needs. After you consult with our team, our workers will determine if your project requires one-of-a-kind ductwork, which we can complete efficiently and accurately in our facilities. To make our process even simpler, we can base your custom ductwork off of one of our existing products, such as our spiral or rectangular ducts.
Regardless of your project's specific dimensions, we'll make sure you clearly understand our manufacturing methods. We've created a refined process from our extensive background in the industry. Hennemuth fabricates ductwork in standard sizes, as well as to your custom specifications. Standard sizes are kept in stock and available for immediate order or pickup. All ductwork is fabricated to SMACNA code.
Hennemuth stocks pipe in even sizes from 4" to 24" diameters, in 10' lengths. We also stock fittings in even sizes from 4" to 24" diameters including saddle taps, reducers, 90 elbow, 45 elbow, couplers, and end caps. Our team manufactures pipe and fittings up to 30" in diameter. Other sized fittings can be made-to-order and custom length pipe is available.
Whatever the project is, our team is here to manufacture ducts that will work for any space. Although we already offer an extensive range of sizes and duct options, we understand every project is different. To ensure we provide the most effective HVAC products for every job, we can create custom parts in our in-house manufacturing facility.
Our team will review any project photos or blueprints before deciding on the right custom ductwork design and fabrication process. You can review our current spiral ducts and rectangular ducts during consultation, which will give our team an existing product to use as a reference before creating your custom design.
Each of our team members is knowledgeable and skilled in our custom duct fabrication process, we can provide an accurate project timeline and estimate before we create your personalized design.
Coil Line Ductwork
Our state-of-the-art facility allows for an increased production rate and quick turnaround of coil line duct for our customers. Products include slip and drive, TDF flange, and insulated and uninsulated duct.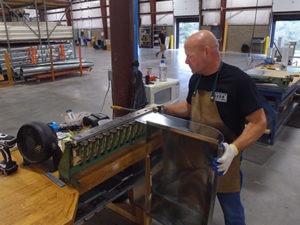 Custom-Fabricated Ductwork
Need custom ductwork pieces? You've come to the right place! Custom fabrication sounds expensive, but not so with Hennemuth. Our project managers will review your order and offer suggestions to ensure that the pieces you need are correct, minimize mistakes and save you money on labor cost and materials with efficient designs.
Hennemuth's new 60,000-square-foot facility includes a variety of new tools and automation processes. This includes a 20-foot coil-fed CNC plasma cutter, which allows us to quickly and efficiently fabricate custom ductwork pieces.
Why Choose Hennemuth for Custom Ductwork in Pittsburgh, Pennsylvania?
When you work with Hennemuth Metal Fabricators, you'll receive a one-of-a-kind experience. We offer competitive rates for our high-quality custom ductwork in Pittsburgh, PA, so you'll receive a cost-effective price and prioritized customer service. Whether you need ductwork for a change-out, new residential construction or a complete commercial job, Hennemuth can help.
We're constantly striving to streamline our production process and customer experience. Since we have a staff with over 100 years of combined experience, you'll receive benefits that only come with a team that's as knowledgeable and professional as ours.
In addition to our top-notch customer service, our manufacturing facility contains updated and advanced equipment, allowing us to supply your custom ductwork as fast as possible. We'll work with you during the entire process so you can stay updated on your project's current status.
Contact Us Today for Completely Customized Ductwork
When it comes to custom ductwork and fabrication in Pittsburgh, PA, and regions around Pittsburgh, we create the most effective and durable designs in the area. You'll receive multiple benefits when you choose our services, such as:
Working with knowledgeable and skilled team members.
Receiving products tailored to fit your project requirements.
Staying updated on the status of your custom design.
Knowing your product will fit perfectly into any existing ductwork.
Call us at 724-693-9605 to learn more about our services. You can also request a project estimate for custom ductwork today.
Typically we'll either fax or email a drawing. Sometimes we'll do it over the phone. They'll follow up with a phone call, we'll go over the drawing and if there's any way they can save us time, they'll do it for us. They get us the job as fast as they can. Their material is incredible. From everything that they stock here to their custom stuff, it's some of the best around. Randy Mitchell, Coleman-Mitchell Heating & Cooling