Fabricators and distributors of quality HVAC ductwork and supplies for commercial and residential projects
Family owned and operated since 1954, Hennemuth Metal Fabricators specialize in fabricating and supplying HVAC ductwork for commercial and residential contractors. We pride ourselves on quality craftsmanship, quick turnaround and the best price.
Hennemuth fabricates ductwork in standard sizes, as well as to your custom specifications. Standard sizes are kept in stock and available for immediate order or pickup. All ductwork is fabricated to SMACNA code.
IF YOU CAN DRAW IT, WE CAN BUILD IT.
Need custom ductwork pieces? You've come to the right place! Our new, fully equipped, 60,000 square ft. shop has the equipment and technology to fabricate any ductwork you need. Our knowledgeable staff understands the HVAC industry and will work with your photos, sketches or blueprint takeoff to get the parts you need for the job.
Hennemuth is a full-service ductwork fabricator specializing in custom duct and fittings for commercial and residential HVAC contractors in Pittsburgh and the surrounding tri-state area. We pride ourselves on quality craftsmanship and a knowledgeable staff with over 100 years of combined experience. Click here to learn more about us.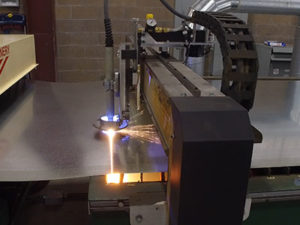 Modern Equipment & Technology
In 2018 we expanded our capabilities with a brand-new, 60,000-square-foot fabrication shop. The new facility includes a 20' coil-fed CNC plasma cutter, a 6-cradle coil line with lining capability, a waterjet cutter for HVAC duct liner and a spiral duct forming machine.
The new facility has allowed us to automate fabrication and speed up production time. For example, the coil line is three times faster than standard ductwork production. We can also run the coil line and waterjet in tandem to product ductwork and insulation at the same time, dramatically speeding up the production process.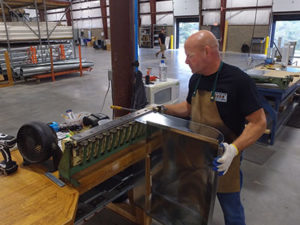 Traditional Metal Fab Shop
At Hennemuth, we will never forget our roots. Our new facility includes a complete manual fabrication shop, where custom pieces can be formed by hand, the old-fashioned way.
We brought over the old hand shop and recreated it right in the middle of the new facility. Between the new equipment, hand shop and our expanded inventory of stock duct, GRDs, tools and accessories, pipe & fittings, zoning and venting products, we are your one-stop shop for HVAC ductwork and supplies.
Their duct work is always spot on. It's second to none. They are by far the best. Everything always fits the first time. And when I'm ordering, they understand what I'm asking for and catch my mistakes. They make me look like I'm a genius. The end result makes me really look like I know what I'm doing. Bob Zahn, Draxxhall Management Corp.