Hennemuth Metal Fabricators is a full-service ductwork fabricator specializing in manufacturing ducts and fittings for various types of HVAC systems. We have been offering high-quality metal fabrication since 1954 and continue to deliver the best products to ensure the success of your projects. Leveraging our in-house capabilities, we are able to create standard and custom ductwork to meet the specifications of your Youngstown clients.
Commercial spaces are often large and require complex ductwork for optimal performance. At Hennemuth, we carry an extensive selection of ductwork products designed and skillfully crafted for commercial applications. You can find an array of vital parts to complete installations and repairs, from commercial GRDs to struts. We have products in multiple categories, including spiral ducts, rectangular ducts and flexible ducts.
We also offer customization options, enabling you to work closely with our experts to create ductwork that fits your exact requirements. Using our advanced equipment and large facility, we can create ductwork based on your blueprints and make knowledgeable suggestions to help you save on costs and time. We work closely with you from the initial planning to the delivery, ensuring complete satisfaction every step of the way.
Hennemuth is a family-owned and -operated duct manufacturer serving Youngstown and the surrounding areas. We offer dependable products and services to ensure you can work effectively and efficiently. When you choose us for your metal fabrication needs, you can benefit from the following:
Outstanding customer service: Our friendly, knowledgeable team is available to answer any questions you have about our services and processes. We communicate with honesty and transparency from start to finish.
Expertise: We have over 100 years of combined experience in metal fabrication and distribution. Our team has the expertise to tackle any fabrication project and deliver a premium product.
Estimating software: We use our estimating software, Quotesoft, to develop accurate blueprints, giving you the information for a streamlined and refined production process.
Delivery: With our reliable delivery service, you can focus on completing your project while the products you need come straight to your job site.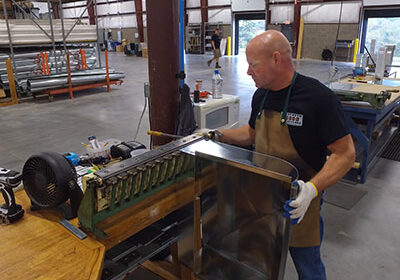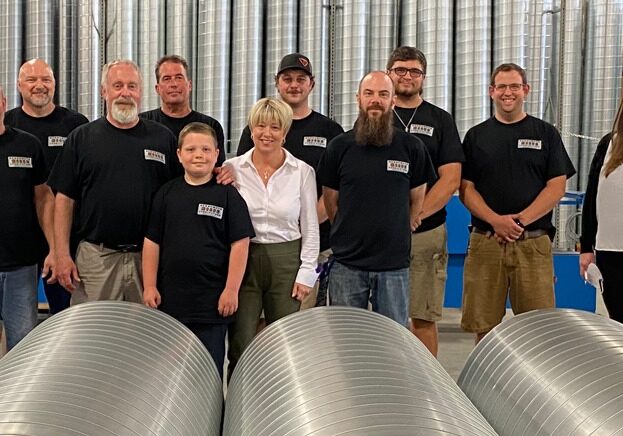 Family-owned since '54, we were originally established by Gordon Hennemuth and continue servicing the Pittsburgh area! We take pride in providing quality products with outstanding customer service.
Our experts have hands-on experience in the HVAC field, so we're ready to provide the answers to your most pressing questions. If you know you have a particular problem area and need a solution, we have the expertise to help you through it. We partner with both commercial and residential contractors to supply ductwork on projects of any scale.
We treat every one of our customers with respect and integrity — no order is too big or too small. We also do everything possible to ensure your custom ductwork order arrives on time so you can keep your project moving with minimal interruption.
Contact Hennemuth for Reliable Youngstown Metal Fabricating Services
At Hennemuth, we understand the importance of getting the job done right the first time. Our quality ductwork and custom fabrication will give you the resources you need to please your clients and maintain a reputation for excellence. Contact us online or call us at 724-693-9605 to get started.