At Hennemuth we are committed to filling your order as quickly as possible.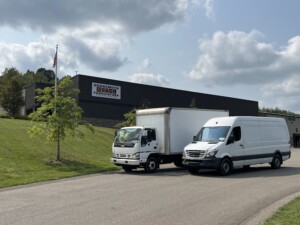 If your entire order is in stock, just let us know when you'd like to pick it up and your order will be ready when you arrive. We have six bays for easy truck loading.
If you arrive and find that you need to add additional items to your order — no problem! Just let us know when you get here.
Delivery service is available for select orders. Please call 724-693-9605 to discuss your delivery needs.
Reliable Ductwork Supplier
From planning to manufacturing, our in-house fabrication makes sure that the ductwork you order is the ductwork you get. We have blueprint equipment that serves to accurately plan the final metal ducts that you need for your contracting job, no matter the size of the order.
We specialize in customization and have the tools to create many duct types and configurations, saving you money and time by eliminating the need to work with multiple ductwork suppliers to find different parts. Just call on us to connect with an expert who will work to fulfill your needs.
Call for Delivery for HVAC Ductwork
Rest assured that you can spend more time focusing on your productivity and output while leaving the transportation of your supply to us. We have a dedicated on-demand courier service that will go to your site with your completed order to ensure that you face minimal interruptions in your workflow.
As HVAC equipment distributors, we understand that a reliable ductwork supplier is essential to your business. We provide full duct customization and installation support informed by rich experience in this field, plus delivery of your HVAC ductwork to sites within a 200-mile radius of our home base.
Hassle-Free Ductwork Sourcing
Due to our made-to-order business model, sourcing ductwork for your contracting job is easier than you might expect. We make sure that the only part of the process you have to consider is the order — we take it from there. Our team will handle the blueprint, the metal fabrication, the delivery of the final product and everything in between.
We have served contractors throughout our home city of Pittsburg, in Cleveland, Ohio, and beyond since 1954. We're proud to be one of the area's best sources for hassle-free ductwork production and delivery, and our on-demand courier service is here to ensure you get your order as quickly as possible.
Benefits of Ductwork Delivery
Trusting our delivery services means spending more time on the work you do to make a living. Our team will produce your order and keep you informed during every step of the process, including delivery, letting you stay focused on the job rather than having to stop and pick up your components.
Our team is friendly and ready to help you with anything you need regarding your order, including last-minute additions. We pride ourselves on our timeliness and will do whatever we can to help you complete your projects on deadline.
Get Your Ductwork Delivered Today
When you're ready to place an order with experts who want to help you succeed, contact the Hennemuth team for assistance. We are your go-to shop for all things custom ductwork and fittings, and we support HVAC contractors throughout the tri-state area with ductwork delivery. Get in touch with us online or at 724-693-9605 today!
I like dealing with family businesses. With this new facility, Hennemuth is our one stop for everything. They've got more products, we can do our commercial business here as well as residential.

We might have an emergency job change-out or a difficult project, Craig always steps up and takes care of what we need at that time.
John Wahl, Wahl Family Heating, Cooling & Plumbing