Heating, cooling, and air conditioning system (HVAC) is essential for the comfort of indoor spaces. Using ductwork, the HVAC circulates clean air around homes, businesses, residential buildings, and many other types of enclosed areas. Without it, homes and businesses are more susceptible to dust particles and germs. By adequately distributing air, the system ensures safety and comfort.
Ductwork is one of the most important elements in an HVAC system. It circulates the fresh air around buildings with its various ducts. While ductwork is critical for most indoor spaces, its mechanisms can seem confusing. But it's always helpful to understand its inner workings just in case you need that knowledge down the line.
Here's a basic guide to HVAC ductwork, from what it is to how to maintain yours.
Table of Contents
What Is Ductwork?
First things first, ductwork is the part of the HVAC system that circulates clean air. It consists of a series of tubes that line the home. Ductwork's primary purpose is to relocate air from the furnace or air cooler to various vents. Then, once the air reaches the vents, the indoor space heats or cools as needed. Basically, without the ductwork, an HVAC system wouldn't function properly.
In addition to moving air, ductwork also carries air through vent filters. Proper filtration keeps air moving at safe levels, reducing germ and allergen content. Your home stays safe and healthy with the correct duct systems and HVAC ductwork supplies.
Because all homes have different structures and designs, ducts vary in size and format. Sometimes ducts even vary in shape depending on room size. It's important to choose ducts that correctly fit spaces to achieve maximum energy efficiency.
Usually, ducts consist of sheet metal, but some types contain various types of steel or aluminum instead. Foil tape seals ducts so no air escapes. With proper sealing, the air ducts increase energy efficiency and ensure no leaks in the system.
Types of Air Ducts
While they all serve the same purpose, air ducts are available in several types. There isn't necessarily the best type of ductwork. Instead, each option has benefits. Some homes use a combination to circulate air. If you're wondering what ductwork is made of, both types can consist of different materials.
Here's more about the two broad types of ducts and the materials used in each.
Rigid Air Ducts
Rigid ducts, also called metal ducts, join together during air duct installation. They come in a variety of shapes, sizes and materials. These ducts offer durability and longevity. Most commonly, rigid ducts are available in two different materials:
Sheet metal: These ducts consist of galvanized steel or aluminum. Sheet metal lasts for many years with little maintenance required. Technicians use them in dry and moist environments because of their corrosion-resistant material. You can easily clean the firm surface. And, the metal makes it difficult for bacteria and other biological matter to grow. Sheet metal's durability guarantees many years of use.
Fiberboard: Fiberboard ducts consist of fiberglass sheets pressed together. A less expensive option than metal sheets, fiberboard ducts offer some of the same benefits as sheet metal. They use a foil surface as a barrier from water and other elements. Fiberboard also provides thermal benefits and sound-muffling qualities. Fiberboard is generally easier to install.
Read More About Return Air Ducts
Flexible Air Ducts
As the name suggests, flexible ducts provide more flexibility during installation. While rigid ducts come in specific sizes, installers can split flexible air ducts so they fit into particular spaces. A flexible air duct suits the area better if you need an air duct in a tight room.
Flexible air ducts include a coiled wire at its center, wrapped in two layers of plastic. There's a foil surface that separates air and moisture from the duct on the outside. The materials are all lightweight, making for easy positioning.
Overall, flexible air ducts offer many perks, particularly if rigid air ducts cannot fit into an area. They also tend to be more cost-effective than rigid styles.
How Does an Air Duct System Work?

No matter the type of air duct, the systems work in the same manner. Many compare the functions of an air duct system to that of the human body or a tree. Just like arteries or branches must all do their part to ensure the host's health, the many components of an HVAC unit work together for the system to function.
Here are the different parts of the air duct system and how they work within the machinery.
Pipes and Trunks
These are the ducts themselves, responsible for allowing air to move in the house. The pipes provide direct paths for the air to flow. The duct trunk is the main duct, usually connected directly to the furnace or air conditioner. The other pipes connect to the trunk on one end and then lead out toward various areas of the building. They link through duct transitions or sites where the tubes connect according to the specific design of the space they occupy.
Plenum
The plenum is a large storage device that houses the air for the ductwork. It connects to both the HVAC system and the other ducts. There are two different plenums in a usual HVAC setup:
Supply plenum: The supply plenum connects directly to the HVAC. The system fills up the plenum with cool or hot air. Then, the supply plenum sends the air into the ductwork.
Return plenum: After the air from the supply plenum enters a room, it pushes the air already present back into a vent and into the ductwork. This returning air reroutes to the return plenum, where the system filters it.
Flues
Flues are essential to air duct function. They remove any toxic or polluted air created during the airflow process and expel it outside, especially if your return plenum doesn't recycle air. Flues need proper sealing and insulation to ensure they don't leak.
Refrigerant Lines
Refrigerant lines are small copper links that connect the outside air conditioning unit and the inside compressor. The larger line, often called the suction line, carries a cooler gas. The other line guides a warm liquid into the compressor. Both of these refrigerant lines allow the HVAC system to produce cool air.
Air Handler
The air handler houses the fans, blowers, and filters. The filters separate germs or airborne dust that might affect the safety of the building. The fans and blowers move cool or hot air into the proper ducts to reach the intended locations. This location also has heating and cooling coils.
Drain Pans
Finally, drain pans catch any moisture accumulated during the heating or cooling process. The HVAC system typically creates vapor as it conducts its processes, whether through humidity or cool condensation. If the liquid remained in the HVAC system, the buildup could cause mold or rust formation. Drain pans alleviate this potential problem by intercepting water. Drain lines connect to the pans and send excess liquids outside rather than rest inside the system.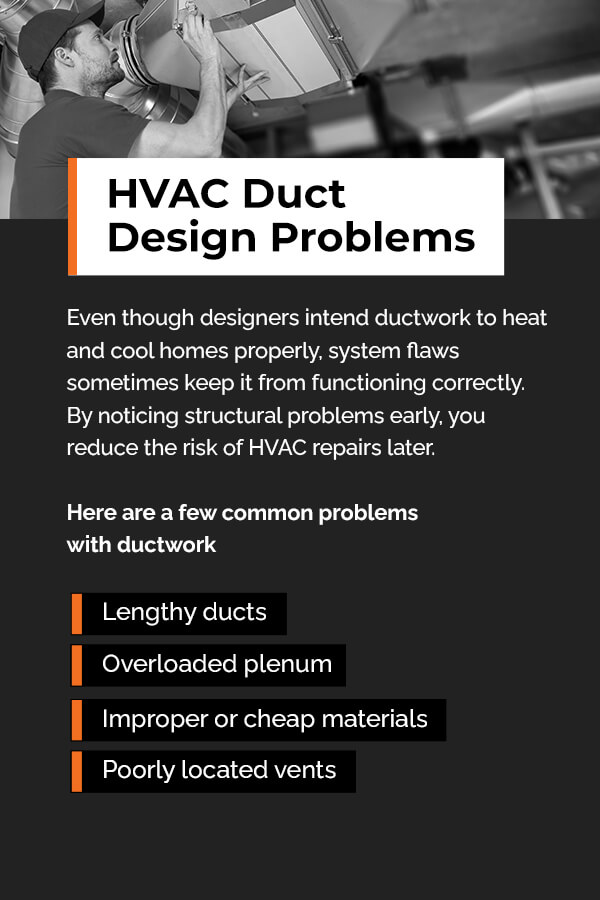 HVAC Duct Design Problems
Even though designers intend ductwork to heat and cool homes properly, system flaws sometimes keep it from functioning correctly. By noticing structural problems early, you reduce the risk of HVAC repairs later.
Here are a few common problems with ductwork and what they could mean:
Lengthy ducts: Sometimes, ducts stretch too far across a home, limiting air travel and reducing airflow. The best fix for this is expanding the ducts. That way, the larger space can conduct more air.
Overloaded plenum: Some HVAC designs place too many ducts onto the supply plenum. This flaw limits air supply because too many ducts fight for a limited inventory.
Improper or cheap materials: Saving a quick buck now could mean improper functions in the future. Inappropriate materials used during installation might cause leaks, excess humidity or loud operation.
Poorly located vents: If a vent sits in a closet or underneath a couch, it restricts airflow. It causes the HVAC to strain itself in an attempt to put out more air. Similarly, if there aren't enough vents to circulate air, it hampers movement.
Why Ducting Installation Is so Important
The entire air duct unit might fail to operate without the right installation. The wrong materials or improper placement could lead to expensive fixes later or even an entire replacement.
These are the benefits of correct HVAC ductwork installation:
Lower costs of operation
Environmentally friendly system
Better comfort levels
And here are some essential practices for correct HVAC installments:
Accurately sized ducts: Every house and commercial building requires differently sized ducts and materials. If a pipe is too big or small, it might not cool the house properly. In fact, it might stall the air altogether. The installers should study the necessary materials and sizes and ensure to use them.
Sealed ducts: A pipe's seal is essential for an HVAC system's health. When air leaks out of the ductwork, the system pumps more air to make up for the loss. This over-usage leads to high utility costs and sometimes even the failure of the entire system. Technicians should use high-quality tape and secure components with sheet metal screws to prevent leaks.
Balanced airflow: Installers should ensure the flow in the ducts is equal throughout different areas of the house. Each room needs a balanced pressure environment.
Improper HVAC installation only leads to inefficiency, which means up to thousands in lost money and time. Be sure to find a technician you trust when upgrading your HVAC.
How Do I Know if My Air Ducts Need Cleaning?
Correct installation is important for an HVAC system's health, but so is consistent cleaning. The Environmental Protection Agency (EPA) warns about the importance of healthy indoor air quality, and dirty ductwork might cause unsafe air conditions for a home or business. Exposure to high amounts of hazardous air might lead to dangerous respiratory problems.
With regular maintenance, you can keep air ducts safe and improve a space's air quality. Here are more ways that unclean ducts cause issues:
Dirty living areas: When dirt and dust clog ducts, the HVAC system may begin to blow around the polluted air. Dirt might land on surfaces in your home and keep it unsanitary.
Increase in allergens or mold: One of the HVAC's most vital roles is to filter out germs and allergens. Ductwork might block correct filtering if it stays unclean. Without this filter, a space's air becomes unhealthier. Or, a buildup of dirt might allow moisture to enter the system and grow mold. The spores could then flow through the ducts and throughout a home or business.
Slow or loud equipment: A lack of cleaning may lower your ducts' efficiency. It might take much longer to heat a room or keep you awake at night with clanging sounds.
To prevent these negative outcomes, it's essential to clean the system regularly. If you're wondering how to clean air ducts yourself, it's usually best to contact ductwork cleaning professionals for the most thorough job.
Some ways to clean your ducts include:
Change duct filters often, especially if clogged
Clean cooling coils and drain pans
Vacuum and remove dust from surfaces of the system
Repair any water damage or leaks immediately
Reseal any leaks thoroughly
Remember, knowing how to clean your air ducts is essential for HVAC health, and the benefits of air duct cleaning will become apparent in your space's air quality.

Signs of Bad Ductwork and Typical Wear and Tear
Many ductwork systems sustain impairments and fail to function correctly, even with the right maintenance measures. Noticing the signs of a failing system allows you to take the proper steps for replacements. While poor airflow is often the first indicator of ductwork wear, there are many others, as well.
The following are a few tell-tale signs of ductwork malfunction:
Suddenly high energy bills: An abrupt spike in a utility bill is often the first indicator that something is amiss with your HVAC. When there's a leak or damage, the system works harder to keep up. In turn, it expends higher amounts of energy, raising your utility bill.
Strange noises: Ducts' design allows them to create airflow quietly. If you hear strange clanging noises, something might be wrong.
Musty odors: If a mildew smell fills the room every time you turn on the HVAC, it could indicate a leak or improper insulation.
Dust by air vents: Dust or dirt by vents signals improper filtration. Your system might have a leak or a damaged duct.
Even if just one section of the system experiences a problem, it could also spread to other areas. If you see any of these indicators or any other strange HVAC system behaviors, your ductwork might need a check-in with a technician. Recognizing these signs allows you to take swift action, preventing further damage.

Contact Hennemuth Metal Fabricators With All Your Air Duct Questions
Hennemuth Metal Fabricators offers custom ducts and fittings for HVAC contractors. Our friendly and knowledgeable staff works with installers directly to find the products they need. Our services are quick and seamless, saving our customers extra time while in the field.
Feel free to contact us today for more information on HVAC systems or ductwork. We'll answer all your ductwork questions and help you take the next steps.