The ductwork in a building allows conditioned air to travel through it and assists in controlling airflow and temperature. If the ducts leak, the building will lose the conditioned air before it reaches the intended destination, costing money and energy and resulting in inconsistent temperature regulation.
Any ductwork manufacturer can tell you how important it is to fix your ducts — fixing leaks in your ductwork can improve your system's efficiency by as much as 20% and enhance indoor air quality. Knowing to fix leaking air ducts and seal ducts in walls helps you make your building's air as good quality as possible and save money simultaneously.
Table of Contents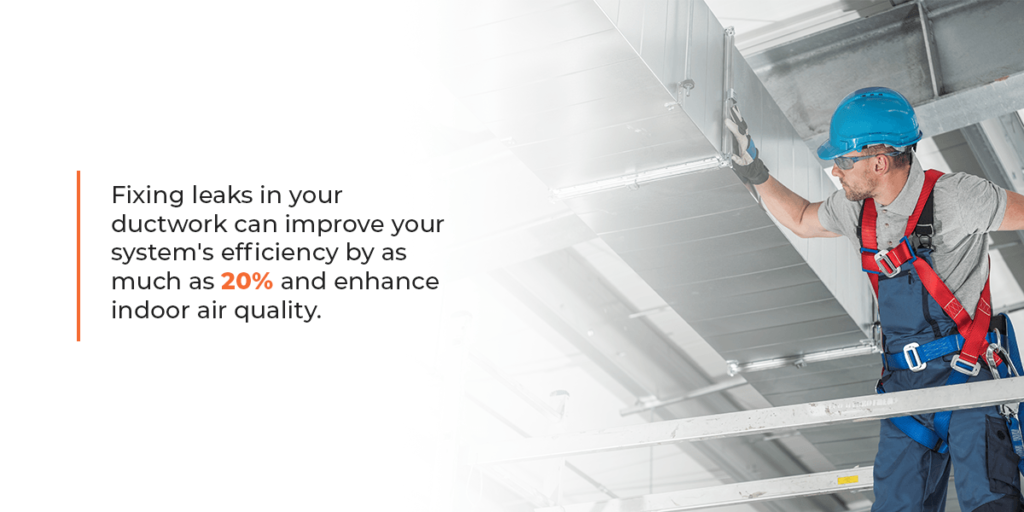 What Causes a Duct Leak?
How do you know you might have a problem with leaky ductwork? Keep an eye out for the following signs:
Unexpected and unexplainable increases in heating or cooling bills.
Increased airborne dust and other particles in the building.
Reduced ability to regulate temperatures in certain rooms.
Increased stuffiness in some rooms and an inability to keep a stable temperature.
If you're experiencing any of the above challenges, you may have leaking air ducts. There are several reasons why your ducts could be leaking, including the following:
Settled foundation: If a building's foundation settles, the duct system will shift and cause damage to the seams, creating gaps that leak air.
Advanced age: As your system ages, it suffers normal wear and tear, which impedes its effectiveness. This wear and tear can cause the duct system's seals to deteriorate and its joints to weaken.
Detached or loose ductwork: Duct segments should all fit together. Wear and tear or other damage can cause the segments to loosen, causing most of the air to escape.
Unbalanced pressure: Air pressure should be uniform throughout your system, as an imbalance can force air through the joints and lead to weaknesses in the system.
Damaged seals: Seals play an essential role in making ductwork efficient. The connections at each section of ductwork must be sealed with specialized products. If these seals are damaged, conditioned air will leak out of the joints.
Unwanted pests: Rodents, squirrels and other pests love to make their home in a building's duct system. As they move around, they can loosen seals and detach joints.
How to Fix Leaking Air Ducts
Before fixing a leaking duct in a building, you must find the leaks. If you can monitor the ducts effectively, you can use a smoke machine to streamline the process. As a fix, you can use clamps to strengthen the joints in the ductwork — just note that clamping might only provide a temporary solution.
There are other sealing methods to try if clamping doesn't provide the results you're looking for, including the following:
1. Duct Sealing Tape
HVAC duct sealing tape, also known as aluminum foil tape, is a cost-effective option for sealing ducts on a short-term basis. The process takes a lot of time and doesn't last long compared to other methods, especially if your ducts tend to get oily or dirty.
2. Mastic Duct Sealant
This duct sealant fills joints and bonds different materials to eliminate leaks and gaps. It's an elastic and flexible sealant that provides more quality and longevity than tape. It's easy to apply to joints with a paintbrush or caulk gun.
3. Aerosol Sealant
Using an aerosol sealant can help you seal ductwork from the inside. After locating the leaks and cleaning the areas around them, apply thin layers of rubber aerosol sealant to create an even surface. This process can take significant time, especially if you're not experienced with HVAC maintenance, so hiring a professional may be your best bet for substantial leaks.
Sustainability Matters
Whether you're a building owner or a contractor, sustainability is a key consideration. Hennemuth Metal Fabricators is a member of ASHRAE — the American Society of Heating, Refrigerating and Air-Conditioning Engineers — and is committed to providing sustainable ductwork options. Ensuring your ductwork is airtight and leak-free is a crucial consideration for your building's efficiency.
ASHRAE standards for sustainable and eco-friendly heating and cooling require all ducts to be sealed with no leaks. Effective sealing starts with the quality of the duct pipes and fittings. Some tips for meeting green requirements include:
Quality sealants: Use the best sealant you can find to meet low leakage requirements. Discuss your options with a professional conducting field testing so you can choose the sealant best suited to your needs.
Correct sealants: Using an unsuitable sealant wastes resources and won't provide the airtight ducts you require. Ensure you use the most appropriate sealant for the job.
Regular testing: Conduct regular tests to ensure you still have airtight and leakproof ductwork.
Effective planning: When sealing your ducts, give plenty of time for your chosen sealant to dry before conducting pressure tests. Consider the weather, viscosity and sealant dry time to maximize your efforts.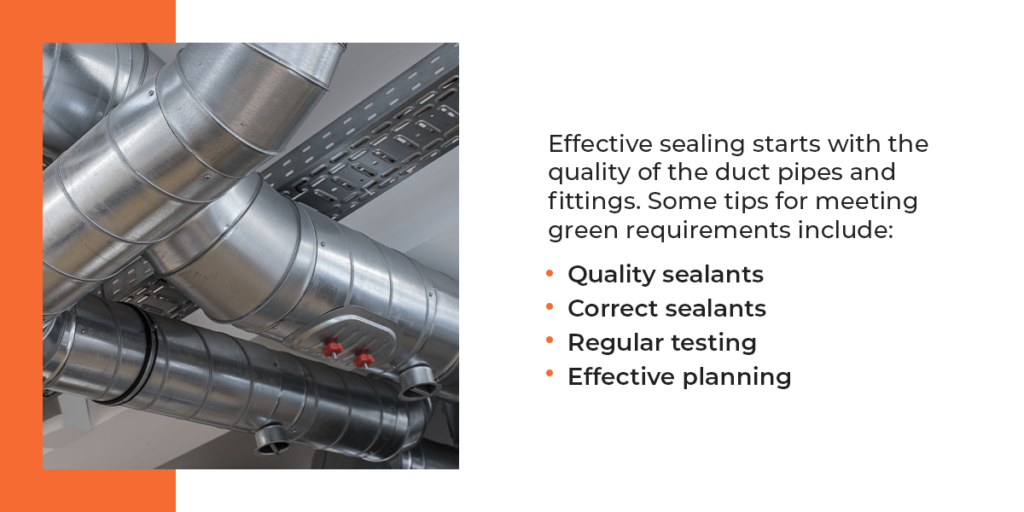 Preventive Ductwork
The most effective method of achieving airtight and leak-free ductwork is to focus on the quality of the ducts you use from the outset. In some cases, it may be necessary to replace your existing system, and while doing so may seem expensive, it's an investment that will save on energy costs and be more sustainable in the long term.
Using specifically designed products can make any HVAC system more effective, including rectangular ducts, flex ducts and spiral ducts. A spiral duct is an excellent choice if a green and sustainable building is what you need.
These ducts leak significantly less than other registers, increasing energy efficiency. Further, they're straightforward to install and have excellent aesthetic appeal, as well. Hennemuth metal fabricators provide customizable spiral ductwork in varying lengths to suit any project and application.
The advantages of spiral ductwork include:
Improved airflow: Because the seals are outside the system, air can flow smoothly through the ductwork and encounter less resistance. As a result, energy losses are minimal.
Minimal leaks: Spiral ductwork features a unique sealing system that minimizes leaks and keeps your ductwork system efficient and cost-effective.
Reduced noise: Air often gets stuck in traditional ductwork systems as it's pushed around sharp corners and turns. With spiral ductwork, the air has a smooth travel path, making less noise.
Looking for Leak-Free Ductwork? Contact Hennemuth Metal Fabricators Today
Hennemuth Metal Fabricators specializes in ductwork for HVAC equipment — we provide custom ducts and various fittings for heating, air conditioning and HVAC applications in Pittsburgh, Pennsylvania, and the surrounding area.
Our products are known for their durability and leak-free performance. If you're looking for the best possible solution, request a quote today to see how we can help you have a more efficient building. If you have any questions about how Hennemuth Metal Fabricators can help you achieve airtight, leakproof ductwork, get in touch with us.